Photographers are often attracted to the fluidity of water and how abstract the images can get. It can go anywhere from a still lake to waves crashing against the beach to make a powerful picture of its own.
The perfection of a picture down to the ripples is an art if done right. The unpredictable shapes and unique textures that water is capable of can draw any photographer in.
Here are eight water photography tips to get a perfect final picture:
Reflections


Using reflections while taking pictures adds symmetry to your images. Even without symmetry, it leads to a beautiful image because of the reflection aspect. Still water is a good bet especially in the morning and afternoon, when not many people are around and it is clear. Keeping your horizon in the centre of the image helps add to the overall look and making it seem more put together.

Always question whether your reflection is complementing your image or taking the focus away from it. It should be the first option. A polarizing filter also helps get rid of some reflections, if it becoming too much. When the light hits just above the shoreline, shadows will be cast and a perfect reflection could be achieved.

Go big or go home

Large surfaces of water can look outstanding and powerful in an image. Your exposure length will be a factor in the image you get. A sharper image is normally resulting of a shorter exposure time. If you are going for longer exposure time, then a tripod stand is a good investment with a high f stop.
Taking pictures with a tripod is not always a piece of cake and you need to take care of the tripod, yourself and the camera once you are in the water. It is definitely worth a shot though. Alternatively, you can use a zoom lens but that will never give you as good a result.

Polarizing Filter


A polarizing filter, as mentioned above, removes reflections when not wanted but it also cuts out the glare of the sun. When the glare is cut out, the color of the water and what lies below starts to come out.

Polarizing filters change the exposure needed for a picture, polarizing filters use a dark lens and you will need a longer shutter or larger aperture to get the perfect picture.
The unfortunate con with a polarizing filter is it comes only at certain angles which are around 45 degrees below horizon.

Use Motion To Your Advantage


If you have a fast shutter, the power of water can be an advantage. If a wave is coming at you and every drop in the air is captured to perfection, the final image can look mind blowing.

Raise your ISO value and open your aperture to the widest if you wish to capture water this way, it will improve the quality of your image.
Always shoot in bursts because a fast motion when it comes to water is different by the millisecond and one picture can be better than another in the same group of pictures.
If you want to better understand exposure read this post.

Or Slow It Down


Contrary to the above point, if you want to show water on an artistic level, you can choose to slow down the aperture to the minimum, lower the ISO value and use a slow shutter. This will automatically give your images a more artistic feel.

You can even attach a polarizer to your camera so that a certain amount of light is removed from the image, like pointed out above to give more concentration to the objects in the picture.
When you want an artistic, slowed down image it is best left for a day in the shade or a shadow of some kind.
Learn more about long exposure photography here.

Streams And Rivers


Flowing water is definitely something we see in a ton of nature magazines but there are right and wrong ways to get the job done. The surroundings are extremely important in a picture with streams or rivers because a huge part of the picture is just that.

The shape of the course of the water is important as well; an S shape is normally perfect and leaves an artistic feel to the picture. A lot of changes in direction in the stream result in a beautiful merging of the surrounding and water.

If you are at an elevation and have a hill or mountain near you, or even steps, vertical changes in the water could lead to a breath taking photograph.

Water Photography With Fountains


Fountains with sculptures are another water photography option that can lead to stunning pictures. If the fountain is small, you can walk around and get images from different angles. If there are multiple sculptures, find the amount of light that will get you the perfect arrangement of all of them.

A much seen picture type in regard to fountains is the zooming in of jets but the speed you would need to capture the droplets without a blur would be in the range of 1/800 seconds. Night photography where light meets water jets can be stunning. Long exposure during dark hours can give it a very artistic look.

Add An Element


Water is a beautiful element to photograph in itself but at times it is necessary to stand out from the hundreds of other similar pictures. Adding an element as simple as a rock or even a starfish on the beach can give you exactly what you need to snap the perfect picture.

This technique also helps add depth to your picture. Do not limit yourself to just objects. As beautiful as a strategically placed leaf is, people can add the human factor you need for your image to stand out. A rock does not make you think of a story, but a person does. Looking at people can allow your picture to speak a thousand words.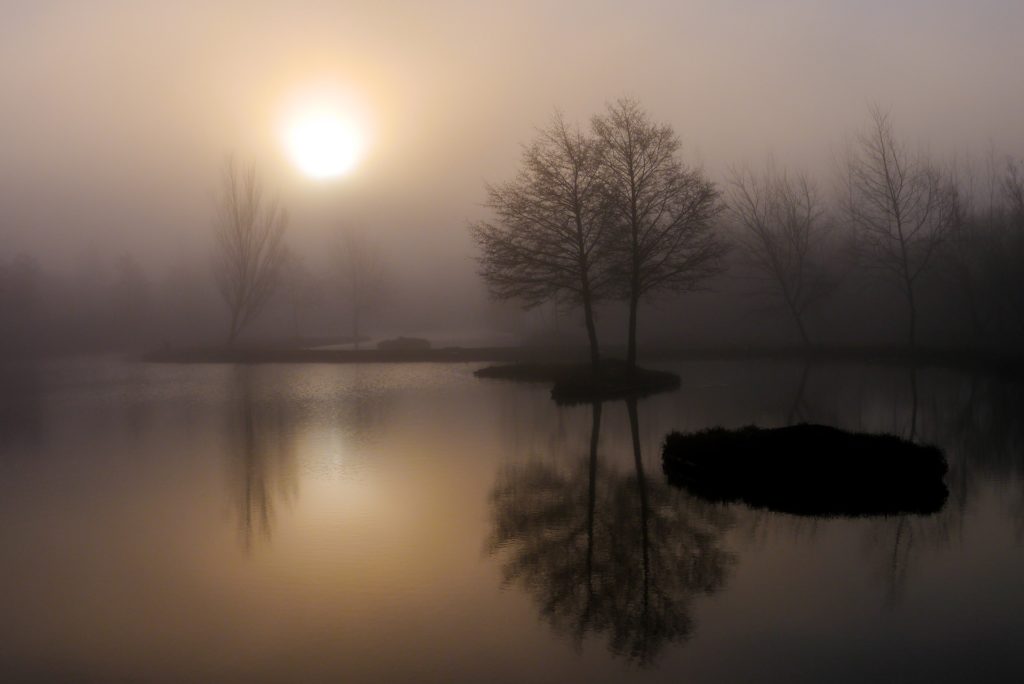 The key to photographing water is an eye for detail; an image of a droplet can become a masterpiece. The range of pictures you can take looking at the same lake is phenomenal and depends on what you want it to offer. Always connect with your surrounding and photograph water as you see it- be it an element, scenery or a dreamy motion.