How to Properly Buy Second-Hand DSLR Cameras?
Many people have been using point-and-shoot cameras for as long as they can remember. Obviously, it is compact, simple, and suitable for casual photography tasks. But it only takes decent pictures for typical occasions. People who dream being of a professional wildlife photographer or great photojournalist may need to upgrade to something entirely better. Unfortunately, we would quickly find out that a new DSLR costs $500 and may even reach $5,000. Students who earn very little or aspiring hobbyists who refuse to spend too much money may need to purchase an affordable, second-hand DSLR. Check my previous review on How to choose digital camera.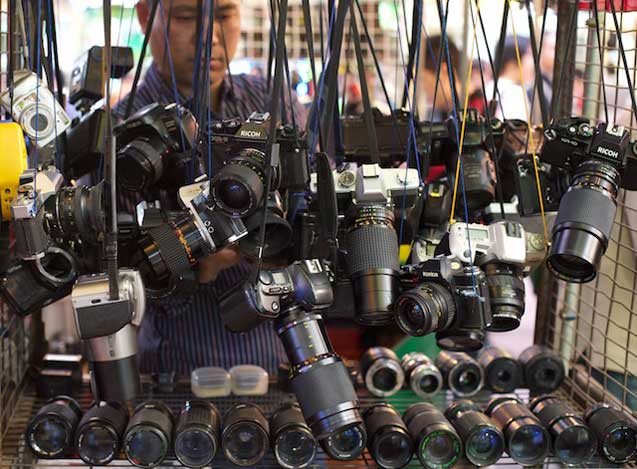 eBay and other popular auction websites should be the first place we look for "second-hand DSLR cameras". These keywords should produce thousands of results, but after a quick browse, we could realize that we don't really have a clue what to do next. It's not easy to know whether these cameras are overpriced or a bargain. Prices of these second-hand cameras could differ markedly and each is equipped with many different features. Once we define a few models that seem to interest us, search the web for a review of the model and make of the DSLR. There should be multiple reviews that allow us to compare different functions and scores. Once we have enough information, we may return to the auction website and choose a camera that seems like a bargain. This should be the easiest method to find a second-hand DSLR that we can afford.
Used DSLR camera what we should know
Before we buy a second-hand DSLR, we may need to know how frequently the original owner used the camera. There's no way of knowing whether the DSLR would last long enough after we buy it. Each camera model comes with pre-determined life, such as how many times the shutter could operate without failure. A DSLR with good quality could sustain on average 100,000 shutter count before failure occurs. Some second-hand DSLRs could produce images with noticeable dark spots caused by the accumulation of dust particles inside the internal sensors. This usually happens when the original owner changes the camera in a dusty environment. Unfortunately, we could check this only after we purchased the camera. For this reason, some buyers prefer to purchase second-hand DSLR in local markets where they could check the camera more thoroughly before paying for it. Buyers who insist on purchasing second-hand DSLR from auction websites should choose sellers who get plenty of positive feedback and reviews.
Where to buy a used second-hand DSLR camera
Of course, eBay is not the only place to look for used photography gear. You can also try to search on Amazon,
Classifieds ad websites such as Craiglist, Gumtree, Vivastreet, and others.
Local photography related forums- as I am located in the UK I will mention several of them:
http://www.talkphotography.co.uk/forums/
http://www.amateurphotographer.co.uk/forums/
http://www.photography-forum.org/
http://forum.photographers.co.uk/phpBB2/index.php
http://digital-photography-school.com/forum/forum.php
Every time we dream about a new digital camera, we want to see the results we can get. Images made by other pro or amateur photographers make sense. For image search by the camera I like to use Flickr here https://www.flickr.com/cameras you can also get more statistics, what are the most used and popular cameras at the moment.